Brief introduction
Lifting hook is made of heated hot rolled round steel, which is forged by mould, and it is the most widely used lifting appliance in lifting machinery field. We have the largest 10000T and 6000T oil hydraulic presses and 2000T tensile testing machine in hook manufacturing industry and own various standard of single and double hook forging mould. Our CNC machining center can produce and process various non-standard hooks.
DFhoist is a famous lifting hook manufacturer in China. All hooks from us are tested by UT and MT. Our products serve in major of domestic crane manufacturers and also export to all over the world. Our hooks are widely used in lifting, mining, petroleum, chemical and other industries.
Advantage
The heaviest capacity --10000T oil hydraulic press in hook industry.
One-time shaping by die forging
Own EU CE certification, US ABS certification, China Classification Society certification, etc.
200% load test
Parameters Table
Single hook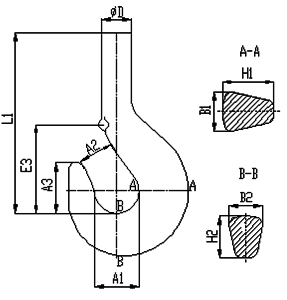 | Type | A1 | A2 | A3 | ΦD | E3 | L1 | B1 | B2 | H1 | H2 | Weight(kg) |
| --- | --- | --- | --- | --- | --- | --- | --- | --- | --- | --- | --- |
| 5# | 80 | 63 | 90 | 53 | 165 | 318 | 71 | 60 | 90 | 75 | 13 |
| 6# | 90 | 71 | 101 | 60 | 185 | 380 | 80 | 67 | 100 | 85 | 18 |
| 10# | 112 | 90 | 127 | 75 | 221 | 460 | 100 | 85 | 125 | 106 | 40 |
| 12# | 125 | 100 | 143 | 85 | 252 | 510 | 112 | 95 | 140 | 118 | 48 |
| 16# | 140 | 112 | 160 | 95 | 280 | 595 | 125 | 106 | 160 | 132 | 80 |
| 20# | 160 | 125 | 180 | 106 | 330 | 665 | 140 | 118 | 180 | 150 | 115 |
| 25# | 180 | 140 | 202 | 118 | 360 | 724 | 160 | 132 | 200 | 170 | 140 |
| 32# | 200 | 160 | 225 | 132 | 400 | 810 | 180 | 150 | 224 | 190 | 220 |
| 40# | 224 | 180 | 252 | 150 | 447 | 905 | 200 | 170 | 250 | 212 | 310 |
| 50# | 250 | 200 | 285 | 170 | 485 | 990 | 224 | 190 | 280 | 236 | 430 |
| 63# | 280 | 224 | 320 | 190 | 550 | 1120 | 250 | 212 | 315 | 265 | 600 |
| 80# | 315 | 250 | 358 | 212 | 598 | 1270 | 280 | 236 | 355 | 300 | 860 |
| 100# | 355 | 280 | 402 | 236 | 688 | 1415 | 315 | 265 | 400 | 335 | 1220 |
| 125# | 400 | 315 | 450 | 265 | 750 | 1590 | 355 | 300 | 450 | 375 | 1740 |
| 160# | 450 | 355 | 505 | 300 | 825 | 1790 | 400 | 335 | 500 | 425 | 2480 |
| 200# | 500 | 400 | 565 | 335 | 900 | 2048 | 450 | 375 | 560 | 475 | 3420 |
| 250# | 560 | 450 | 635 | 375 | 980 | 2305 | 500 | 425 | 630 | 530 | 4800 |
Double hook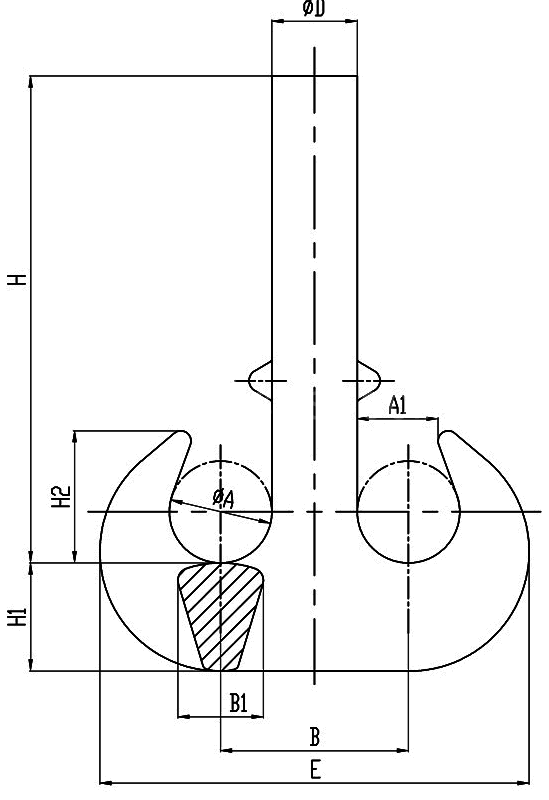 | Type | ΦD | ΦA | A1 | H | H1 | H2 | B1 | B | E | Weight(kg) |
| --- | --- | --- | --- | --- | --- | --- | --- | --- | --- | --- |
| 10# | 75 | 90 | 71 | 505 | 95 | 116 | 75 | 165 | 377 | 36.3 |
| 12# | 85 | 100 | 80 | 594 | 106 | 130 | 85 | 185 | 421 | 50.5 |
| 16# | 95 | 112 | 90 | 642 | 118 | 146 | 95 | 207 | 471 | 71.1 |
| 20# | 106 | 125 | 100 | 698 | 132 | 163 | 106 | 231 | 531 | 99.5 |
| 25# | 118 | 140 | 112 | 750 | 150 | 182 | 118 | 258 | 598 | 138 |
| 32# | 132 | 160 | 125 | 830 | 170 | 205 | 132 | 292 | 672 | 197 |
| 40# | 150 | 180 | 140 | 930 | 190 | 230 | 150 | 330 | 754 | 286 |
| 50# | 170 | 200 | 160 | 998 | 212 | 260 | 170 | 370 | 842 | 394 |
| 63# | 190 | 224 | 180 | 1120 | 236 | 292 | 190 | 414 | 944 | 547 |
| 80# | 212 | 250 | 200 | 1250 | 265 | 325 | 212 | 462 | 1062 | 759 |
| 100# | 238 | 280 | 224 | 1400 | 300 | 364 | 238 | 518 | 1186 | 1060 |
| 125# | 265 | 315 | 250 | 1600 | 335 | 408 | 265 | 580 | 1330 | 1491 |
| 160# | 300 | 355 | 280 | 1800 | 375 | 458 | 300 | 655 | 1505 | 2115 |
| 200# | 335 | 400 | 315 | 2000 | 425 | 515 | 335 | 735 | 1685 | 3015 |
| 250# | 375 | 450 | 355 | 2250 | 475 | 580 | 375 | 825 | 1885 | 4268 |